Black Hills & Badlands- National Parks and Monuments Itinerary
What better way to explore the beautiful Black Hills than an inclusive, pre-planned vacation? Designed specifically to highlight the plethora of national park units located in the Black Hills of South Dakota, the National Parks and Monuments Vacation Package is the perfect way to explore all our national treasures.
Day 1
Go ahead and get settled in your pre-arranged Black Hills accommodations, "hang your hat" as we like to say. As you absorb the beautiful scenery around you, explore your new community!
Let's start at our nation's Shrine of Democracy, Mount Rushmore National Memorial. Your American pride will swell as you explore the extensive grounds, interactive learning centers, the avenue of flags, guided and self-guided tours, restaurant and gift shop. Also, stop back during your stay to take in the nightly lighting ceremony. This moving ceremony includes the dramatic gradual lighting of the four faces, a Veterans tribute and short documentary film.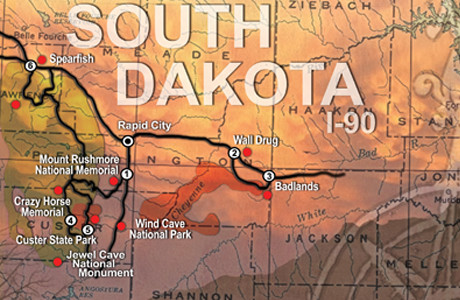 Day 2
Today you are heading east to Badlands National Park. Take I-90 and travel to Wall, SD. As an added bonus, stop at the World-Famous Wall Drug Store. Wall Drug got its start during the Depression by offering free ice water to thirsty travelers.
Traveling south from Wall on Highway 240, you will have the opportunity to spend the day touring Badlands National Park. Located in southwestern South Dakota, Badlands National Park consists of nearly 244,000 acres of sharply eroded buttes, pinnacles and spires blended with the largest, protected mixed grass prairie in the United States. Exploration options are endless, from scenic overlooks to two impressive and educational Visitor's Centers, the Ben Reifel Visitor Center in Badlands National Park and the Minuteman Missile National Historic Site just north of the park.
Follow Highway 40 to Keystone, SD and take a moment and explore the life and creations of the person who carved Mount Rushmore, sculptor Gutzon Borglum. The Rushmore Borglum Story, located in Keystone, South Dakota, will be an exciting tour for those young and old. Embark on an adventure into Borglum's life as the spectacular museum and gallery displays his paintings, sculptures and artifacts.
Exploring the Borglum Story will give you a better understanding of the creation of Mount Rushmore National Memorial. The realistic narrated tour will take you to a replica of the top of Mount Rushmore. Sit and watch in awe as the tour displays a reenactment of the granite blasting.
Cruising south on Highway 385, you'll be delighted as you round a corner and glimpse the silhouette of Crazy Horse Memorial. As a work-in-progress mountain sculpture, this massive tribute to the famous Lakota warrior and leader is visually striking and offers visitors endless educational opportunities. The memorial's 40,000 square foot visitor complex, viewing veranda, museums and cultural center encompass the vision of the property: To spotlight our cultural and spiritual diversities, and to encourage harmony and diversity among our people and nations. The nightly laser light show will keep you oohing and aweing!
Day 3
The beauty will continue this morning as you travel on Highway 385, a beautiful scenic highway that runs north/south through the Black Hills. Just east of 385, you'll enter Custer State Park.
Some of the most incredible roads anywhere make up the Peter Norbeck National Scenic Byway in Custer State Park.  Peter Norbeck was a visionary senator and governor of South Dakota and personally chose the layout of Iron Mountain Road and persisted in building it even after being told it couldn't be done. The panoramic views and stone tunnels framing Mount Rushmore are a sight to see. Views of Mount Rushmore are best viewed traveling south to north. Another segment of this 70-mile byway includes the Needles Highway (SD 87), which twists and turns its way past towering rock formations and through narrow tunnels.
Custer State Park also has outdoor activities that include hiking (check out 7,242-foot Black Elk Peak), mountain biking, horseback riding, rock climbing and fishing. Custer's expedition first discovered gold in 1874 in Custer State Park. Take in a theater performance at the Black Hills Playhouse or visit the log cabin that was home to Badger Clark, South Dakota's first poet laureate.
Next, Wind Cave National Park. The cave is known for its extensive display of box work, an unusual cave formation resembling honeycombs. The park's prairie habitat is home to wildlife, which you are more likely to view and observe in the mornings and evenings. Wind Cave is the 6th longest cave in the world and offers family-friendly and accessible tours all year. Above ground, the park's prairie and pine forests are home to bison, elk and pronghorn antelopes. Trails include Rankin Ridge, with views of the Black Hills.  Jewel Cave National Monument located west of Custer City is the third longest cave in the world. Jewel Cave got its name for the glittering calcite formations that make up its jewels.  Both parks offer tours year-round on a first come first served basis.
Day 4
Next, an adventure will get you started in the right direction…west to Wyoming. Devils Tower National Monument, declared our nation's first National Monument by President Theodore Roosevelt in 1906, rises unexpectedly over the vast prairie and grasslands of eastern Wyoming. This 1,347-acre park is covered with pine forests, woodlands, and grasslands. Deer, prairie dogs, and other wildlife are seen daily. Also known as Bears Lodge, it is a sacred site for many American Indians. The interactive visitor center will pique your imagination with the folklore and stories, not to mention the stunning scenery.
What an adventure! You have traveled from the peaks of the beautiful Black Hills of South Dakota, through the foothills, and onto the gorgeous grasslands of the prairie. Your National Parks and Monuments vacation has been full of education, unforgettable experiences and memories galore. We wouldn't be surprised if your next Black Hills vacation is already being planned!