Epic Pit stops on your Road Trip to the Black Hills
EXIT NOW! From oddities to sculptures to a museum that features Elvis Presley's motorcycle, this east-to-west trip along South Dakota's Interstate 90 boasts fascinating pit stops on your way to the Black Hills.
Even the Interstate Information Centers get into the act with oversized concrete teepees (listed on the National Register of Historic Places).
Porter Sculpture Park, Exit 374 – The sight of an enormous bull's head rising out of the prairie beside Interstate 90 will make you want to pull off and check out Porter Sculpture Park. Quirky and fanciful metal creations from South Dakota sculptor Wayne Porter are scattered along a grassy walking path. The park is open late May through early September.
World's Only Corn Palace, Exits 332 and 330 – For more than 120 years, this monument to agriculture has attracted travelers to downtown Mitchell. Almost every year, the murals on the sides of the Corn Palace are recovered with new artistic versions of large colored corn-by-number scenes. A spectacular renovation in 2015 added glowing onion-shaped domes to the top of this unique historic building. It doesn't end at the Corn Palace. The Dakota Discovery Museum nearby, a hands-on learning center, and the Mitchell Prehistoric Indian Village Museum, the only archaeological site in South Dakota open to the public, will make your stop in Mitchell a favorite. All three attractions are open year-round.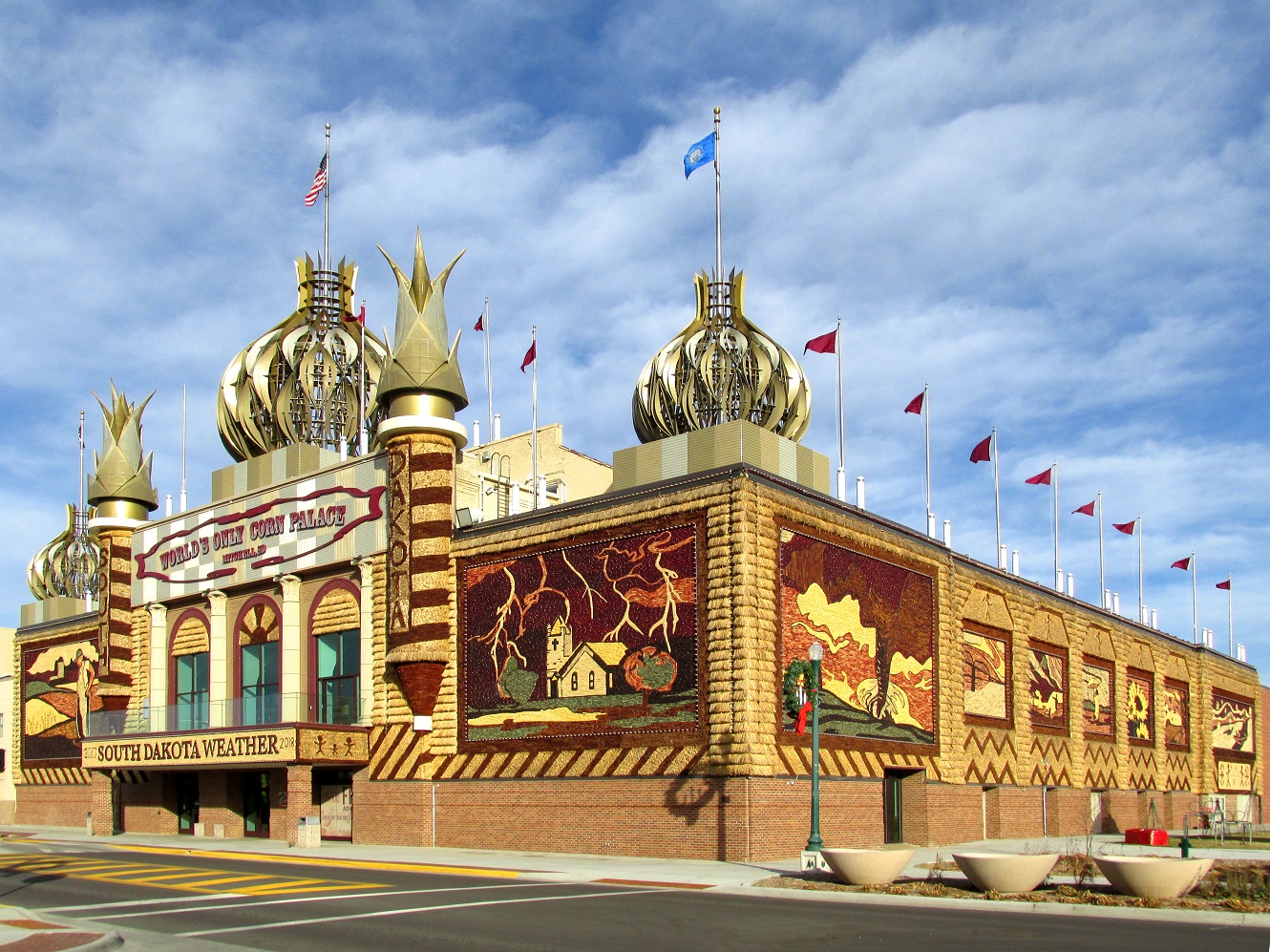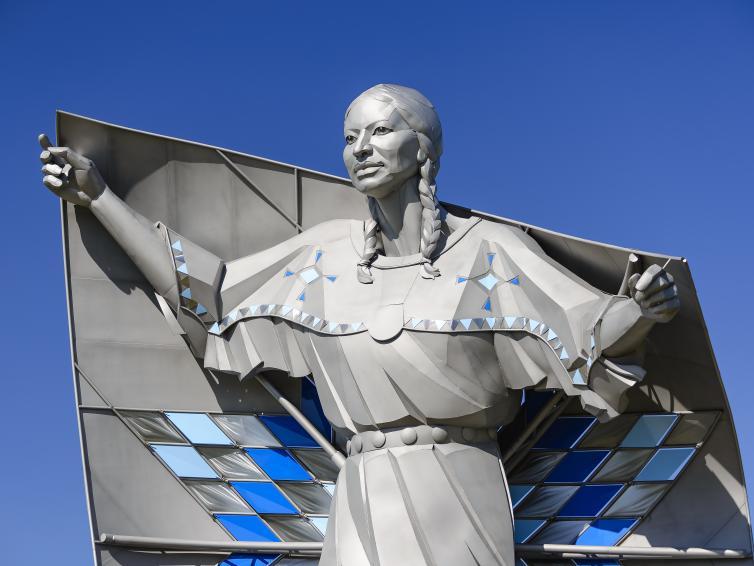 Dignity: Of Earth & Sky, Exits 263 & 265 – Located at the Chamberlain Visitor Center, the Dignity sculpture is a stunning combination of art and history. Located on a bluff between exits 263 and 265 on Interstate 90 near Chamberlain, the stainless steel, 50-foot-tall statue was designed to honor the cultures of the Lakota and Dakota people. The artist used three Native American models ages 14, 29 and 55 to perfect the face of Dignity. Free and open year 'round.
Al's Oasis, Exit 260 – The extra-large bison statue at Al's Oasis in Oacoma announces your arrival to western South Dakota and the west bank of the Missouri River. Buffalo burgers, homemade pie (it really is!), five-cent coffee, and gifts and souvenirs are highlights at this restaurant/motel/shopping plaza.
Pierre, South Dakota's Capital City, Exit 212 – This 30 minute detour off I-90 is a favorite of travelers who like to visit state capitol buildings. This one's a gem! Completed in 1910, it's one of the most completely resorted state capitol buildings in the country. From Thanksgiving to New Years the halls are bright with Christmas Trees decorated by people from across the state. The community of Pierre (pronounced PEER) is the second-smallest capital city in the country and the only one not served by an interstate highway.
Pioneer Auto Show, Exit 192 – Featured on the American Pickers, this sprawling complex of buildings and outdoor exhibits in Murdo features hundreds of cars, motorcycles (Elvis's Harley), trucks, tractors and antiques. This family-run business has been entertaining travelers since 1954 and is open year-round. More Information
1880 Town, Exit 170 – Memories of vintage Western movies will flood back as you walk the 1880 Town's main street. Located between Okaton and Belvidere on the north side of the Interstate, this Old West village includes the saloon, church, school, stables and train depot you would expect– all hauled in from around the area. Props and souvenirs from the South Dakota-filmed movie Dances With Wolves are displayed in the round barn entrance pavilion. Don't miss the skeletal man walking his dinosaur statue in the field just east of the town. 1880 Town is open May through October.
Minuteman Missile National Historic Site, Exit 131 – The Cold War led to fear, panic and distrust, symbolized by a nuclear arms race between the US and the Soviets. The Historic Site is three sites along a 15-mile stretch of I-90.The visitor center at exit 131 and the delta-09 missile silo are open to the public.The Delta-01 Launch Control Facility offers tours that require a reservation Check Availability. Exit 131 also takes you to the gate of Badlands National Park.
Prairie Homestead, Exit 131 – Experience the original "green" home, just north of Badlands National Park.Learn about a typical sod homesteader's life in pioneer clothing, see farm animals and rare white prairie dogs. It's one of the only original farm sod homes intact today. Check Availability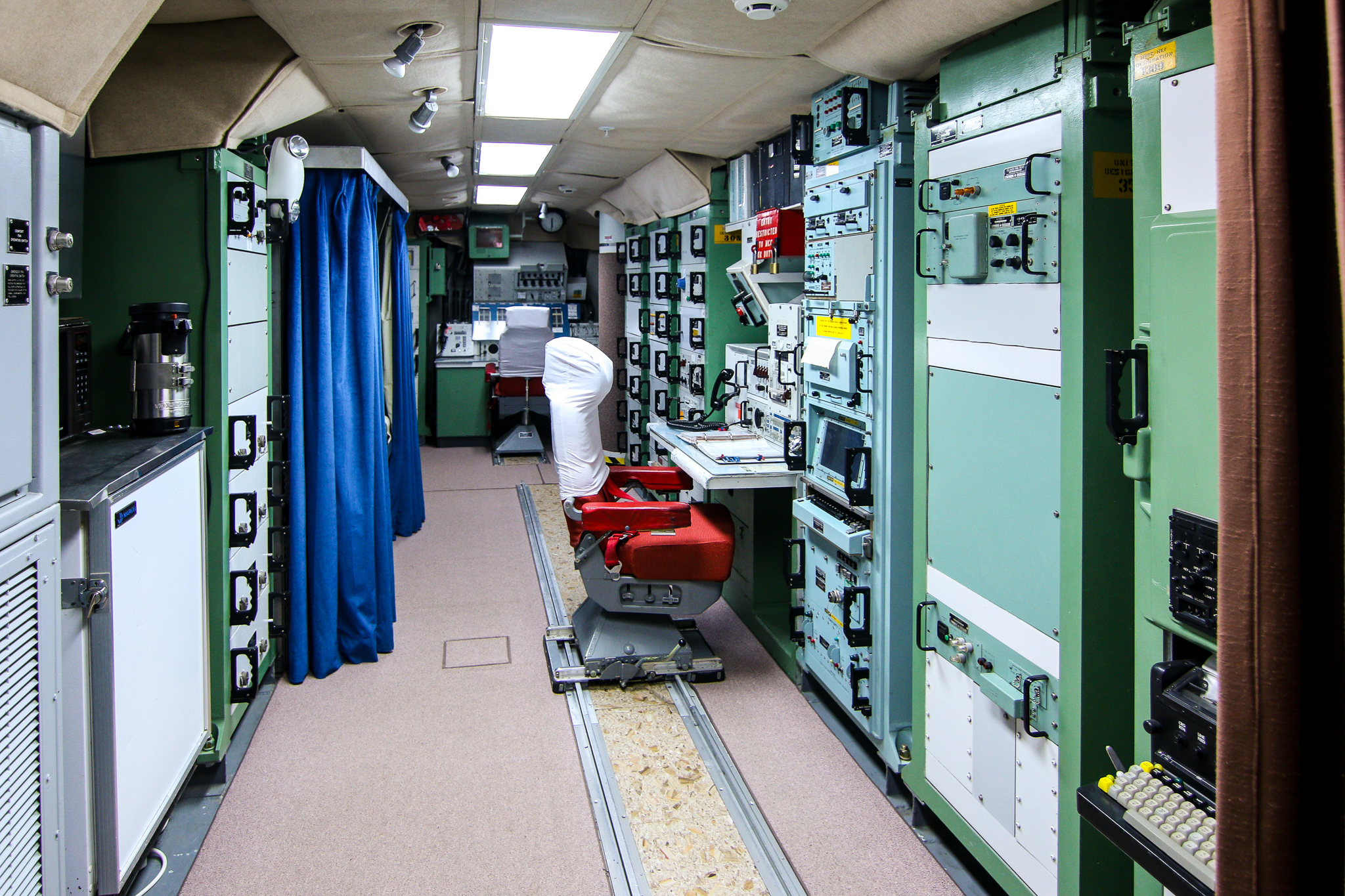 Wall Drug, Exit 110 – After seeing the famous Wall Drug billboards for miles (and around the world), you can't miss the most well-known roadside attraction in the country! Originally a small-town pharmacy that began offering free ice water to road-weary travelers in the 1930s, Wall Drug is now a city block-sized entertainment emporium with restaurants, souvenir shops, art galleries, western wear stores and a one-of-a-kind playground for the kids. A family photo on the giant jackalope, a free Wall Drug bumper sticker and yes, free ice water, are all musts on every South Dakota road trip. Wall Drug is open year-round.
Dinosaur Park, Exit 58 – Dominating the skyline from a ridge top in the center of Rapid City, Dinosaur Park's prehistoric statues are great fun for kids to climb and slide on. Completed in 1938, the beasts are the highlight of a trip along Skyline Drive, which overlooks the city to the east and west. This free park is open May through October.
Storybook Island, Exit 58 – Whimsical nursery rhyme characters in statue form populate this fun park on Sheridan Lake Road in Rapid City. From late May through early September, kids can climb, slide and explore for free. Musical and theatrical performances are held throughout the summer and some special events occur in the off-season.
Destination Black Hills – Exits 61 through Exit 10 – You've arrived in the Black Hills of South Dakota. Click here to discover world class icons like Crazy Horse Memorial, Mt Rushmore and Historic Deadwood. National Parks & Monuments