Mount Rushmore National Memorial
Mount Rushmore symbolizes the ideals of freedom, democracy and the American dream in the four 60-foot granite faces. This mountain carving of Presidents George Washington, Thomas Jefferson, Theodore Roosevelt and Abraham Lincoln draws over three million visitors a year. It is both a spectacular site and a man-made wonder.
Mount Rushmore Visitor Information
The information center, audio tour, restrooms, gift shop and Carver's Café & Ice Cream shop are open. Check out the terrace area for especially breathtaking views of the monument. The Nature Trail across from the Parking Lot takes you to the Borglum View Terrace and Civilian Conservation Corps stairs that lead to the original Historic Viewing Area. The Sculptor's Studio, which is the artist's original studio, gives his perspective and vision of the monument to visitors.
The Presidential Trail is also open to the turnaround. Make sure you check out the lighting ceremony every evening with a ranger talk, retiring of the flag and the illumination of the sculpture. Gib Young, who reenacts Teddy Roosevelt, is in the park five days a week. There is so much to see and experience at Mount Rushmore!
Please note, the Lincoln Borglum Visitor Center, Grand View Terrace and Amphitheater are closed for remodeling. For guests' safety, the Presidential Trail from The Grand View Terrace to the Youth Exploration Trail is not open during this project. For accessibility needs and more information on park hours, visit the National Park Service.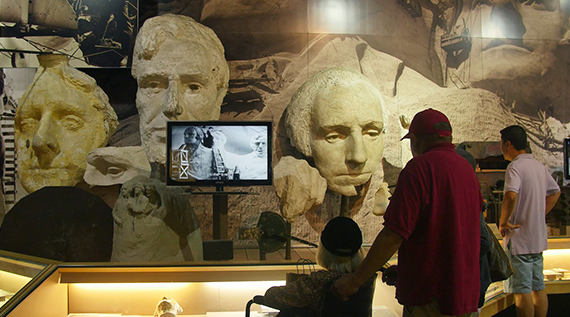 Mount Rushmore History
The first blast on the mountain occurred in 1927. Under the direction of sculptor Gutzon Borglum, 400 men and women worked through hot summers and cold winters to create the 60-foot faces, nearly 500 feet up the side of the mountain. Over 90% of the mountain was carved using dynamite. The fine details of the faces were achieved, using jackhammers and hand chisels. Operators hung from the top of the mountain in bosun chairs held by steel cables. Despite the dangerous work, in the 14 years it took to carve the mountain, not a single person died. The memorial was officially declared complete on October 31, 1941.
Hours & Fees
Mount Rushmore National Memorial is open year-round, seven days a week with the exception of Christmas Day, December 25th. The monument is illuminated every evening. Hours of operation vary by season and are subject to change. The $10 parking pass is valid for one year starting with your first visit. Discounts for seniors and active military.