Keystone, South dakota
Keystone is the Black Hills' closest city to Mount Rushmore National Memorial, located just three miles from these famous faces. Rich in gold mining history, the quaint town of Keystone was once a boomtown after the discovery of placer gold two miles east of its current location. Placer gold is still thought to exist in abundance, but the great depth of the deposits makes it difficult and impractical to reach.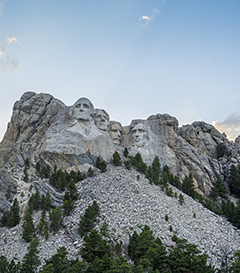 Things to do in Keystone
With over 32 restaurant options, adults and kids alike will love the convenience of Keystone's dining and shopping options. In addition to its central location near Mount Rushmore, Crazy Horse Memorial® and other sights, Keystone is home to The Rush Mountain Adventure Park, Rushmore Cave and Rush Mmountain Adventure Park, The National President's Wax Museum, Big Thunder Gold Mine and other family friendly attractions.
Where to stay in Keystone
Find cabins and hotels near Mount Rushmore in Keystone. You'll be just minutes from the monument – some properties even feature balcony views of Mount Rushmore. Dining, shopping and entertainment adventure parks are within walking distance of most Keystone, SD hotels.
Explore the Region
A Black Hills vacation is central to hundreds of scenic monuments, parks, restaurants and attractions. Browse Black Hills maps to find lodging and things to do near Keystone.