The Badlands of South Dakota
Explore the Badlands near hotels, restaurants and more. Find lodging, camping and packages for Badlands communities including Wall, Murdo and Interior, South Dakota.  From the rolling prairies of Murdo to the jagged spires and sharply eroded buttes of Interior and Badlands National Park, this region of southwestern South Dakota offers national parks, diverse landscapes and cultural experiences you won't forget.
Captivating Landscapes.  Sharply eroded buttes, jagged spires and colorful sediment create out-of-this-world scenery in the Badlands region of western South Dakota. The area is most well-known for Badlands National Park, an otherworldly wonder filled with painted canyons, hiking and biking trails, toothy rock formations and scenic spots to take it all in. In Wall, yYou'll also find the country's only National Grasslands Visitor Center. The Badlands region is known for its scenic drives, abundant wildlife, rustic horseback rides and wilderness camping.
Step back in time to early days of the pioneers at South Dakota's Original 1880 Town, and enjoy free ice water, homemade donuts and five-cent coffee at the World Famous Wall Drug Store. There's no better stop for tourists to find one-of-a-kind souvenirs, a home-cooked meal and to hitch a ride on a jackalope. Just down the road at Murdo, you can see more than 300 vintage cars and trucks at the Pioneer Auto Museum.
History and Culture.  The landscapes of the Badlands are millions of years old, but its sharp buttes and spires aren't the only attractions to hold history. Explore the area, At the east entrance to Badlands National Ppark, and you'll find the Minuteman Missile National Historic Site, where cold war history is perfectly preserved. Learn about Native American culture on the Pine Ridge Indian Reservation and the Wounded Knee Museum and historic cemetery.
Let Black Hills Vacations help you find the perfect place to stay when you venture to the Badlands region of South Dakota.
Interior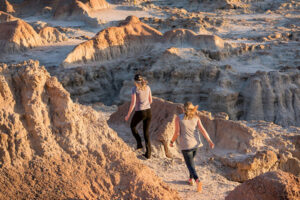 Stay to catch the sunrise in Badlands National Park.
Murdo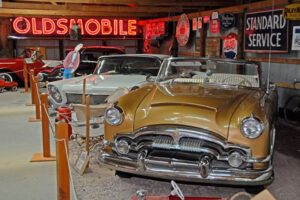 Central to Badlands Hunting and Fishing
Pine Ridge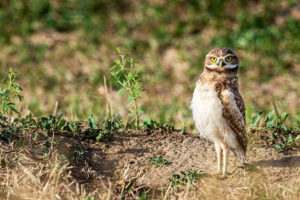 Rugged terrain, wide open prairies and culture abound.
Wall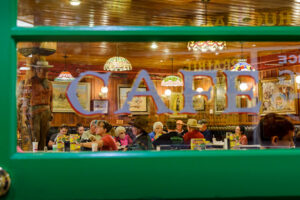 Stay near South Dakota's signature Wall Drug