Deadwood PBR – Pro Bull Riding
June 9
@
7:00 am
–
June 10
@
7:00 pm
50 Crescent Drive, Deadwood, South Dakota

When you think of bull riding many things come to mind but picture this, a 2,000 pound bovine being conquered by a man with no
fear. This is part of the tradition of Bull Riding! The cowboys that carry on this tradition are known as the gladiators of the arena, the
bull riders of the PBR, and they're coming to Historic Deadwood South Dakota, June 9 & 10, 2023! These two elements created the
PBR. Bull riding is one of the most extreme sports known to man and the best of the best belong to the Professional Bull Riders. In the
world of professional sports the PBR brings the top bulls and the top riders to fans all over the country.
Also check out – Tito's Handmade Vodka Party Pit
If you're looking for a premium event experience in Deadwood, look no further! The party animals at Tito's Handmade Vodka are bringing their signature flavor to the Days of 76 Event Center as a BIG part of the festivities. Buy our Exclusive 8-seater tables for you and your friends or mingle with the party people at our General Admission Standing and High-Top table area. Enjoy the PBR from an exclusive vantage point at the West end of the arena – we're bringing the show to you at Stage Level while the drinking geniuses at Tito's Handmade Vodka pour the drinks from your VIP bar!
8-Seater tables are available for $150 dollars per seat (must buy entire table). High-Top Table and General Admission area seats are $125.
Tickets come with Drink Tickets and exclusive swag to commemorate the first year of the Party Pit. Drop by the Ticket Booth and pick up your stuff on the day of the event!
Two awesome ways to party

Click on the table buttons below to purchase your very own reserved table, front and center to the action! Tables seat 8 and much be purchased as a whole table – bring your whole crew!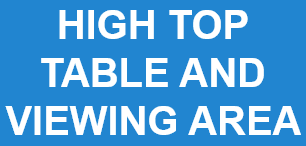 Click these blue areas to purchase a ticket that allows you to use the High-Top tables and stand in the Party Pit. No assigned seating in this area so take the chance to mingle.
TICKET INFORMATION
Ticket Booth Open: 5:00pm
Gates open : 6:00pm
Event Start Time: 7:00pm
Call 605-717-7642
or
Related Events