Sturgis Motorcycle Rally
, Sturgis, South Dakota
83rd Annual Sturgis Motorcycle Rally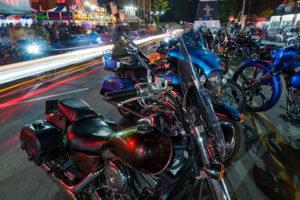 Come be part of one of the largest and longest-running motorcycle rallies in the world. The Sturgis Motorcycle Rally brings hundreds of thousands of motorcyclists to the Black Hills annually.
For 10 full days in August, the town of Sturgis and surrounding area bustles with campers, bikers, on-lookers and everything in between. The rally draws vendors and food trucks from around the country to downtown Sturgis. Walking Main and Lazelle streets in Sturgis is nothing short of an adventure. Here, you can catch some of the biggest characters and craziest custom bikes.
A motorcycle ride through the Black Hills and Badlands is a one-of-a-kind experience with fantastic scenery. From north to south and east to west, the entire region is dotted with epic rides. For skill-rated scenic rides, view or download the Black Hills Motorcycle Map.
Check out all the concerts, races, and special events held throughout the region during rally week, as well as pre- and post-rally events.
Related Events