Rush Mountain Adventure Park-Rushmore Cave
13622 South Dakota 40
Keystone, SD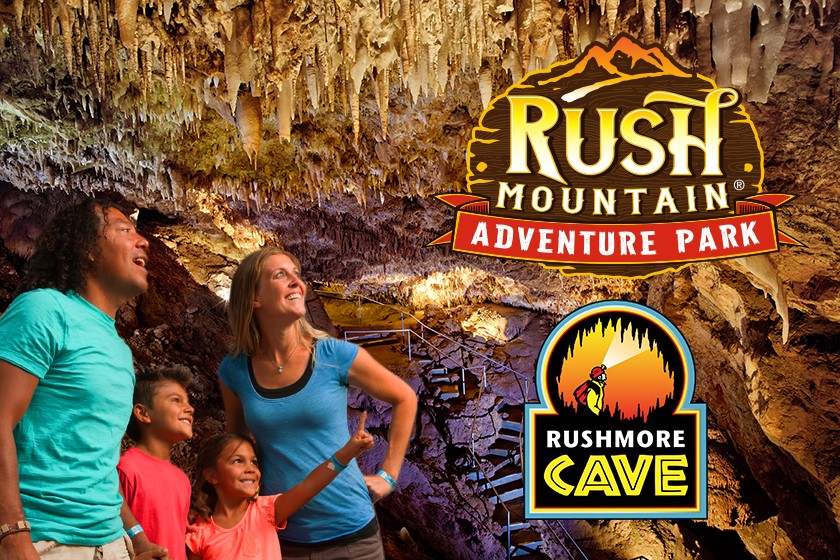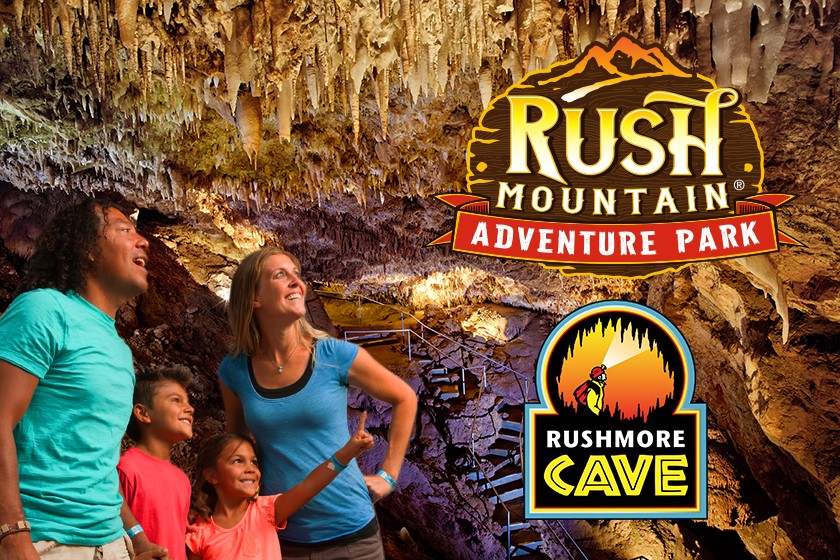 Covid-19 Update – Children ages 4 and under are not allowed on Cave Tours at this time.
Experience the RUSH of 5 thrilling attractions in one location. Ride the region's only Mountain Coaster, explore Rushmore Cave, take flight on the 2-seated Zipride, & challenge your friends at the Gunslinger 7-D Interactive Ride, then explore the NEW Wingwalker Challenge Course, all only 10 minutes from Mount Rushmore on Highway 40. It's a MOUNTAIN of family fun!
Rushmore Cave
Journey into an unseen world and discover stalactite-filled caverns, cave formations, and the amazing Big Room at
Rushmore Cave
. Learn from our knowledgeable guides about the history and geology that formed the world renowned Black Hills cave systems.
Rushmore Mountain Coaster
Wind through the trees on this unique gravity-propelled mountain coaster, at speeds of up to 35 mph. Go fast or go slow, you control your own speed! The coaster carts are equipped with an onboard distance control system ensurring you have a safe and thrilling experience.
Wingwalker Challenge COurse + Sky Tykes
Ever wanted to be a ninja warrior? Or maybe a stunt double? Get ready to test your inner daredevil! The
Wingwalker Challenge Course
is 2 levels of high flying obstacles, tightropes & two ziplines that test your skills, balance, agility and fearlessness! There's even a mini version for the youngest adventurers called
Sky Tykes.
Soraing Eagle Zipride
Soar through the air like an eagle on this unique zipline attraction. This thrilling ride lets you experience the sensation of flying, while accelerating 630 feet down the mountainside on a suspended cable.
Gunslinger 7-D Ride
Experience this amazing multi-sensory immersive experience. Feel the seat move, the wind in your hair as you take one of 3 adventurous journeys. Shoot your laser gun at targets along the way. It's a blast!!
Get a treat at Sparky's Snackitorium snack bar, featuring pizza, signature hot dogs, soft drinks and soft serve ice cream. You are sure to have a great time, full of affordable family fun as you make some amazing vacation memories.

Shoulder Season 9:00 am - 5:00 pm
Peak Season 9:00 am - 7 pm
Everything opens at the same time except the Wingwalker which opens an hour after everything else as the inspection takes longer.
Black Hills Family Camping
Pitch a tent or elevate your camping experience with a camping cabin, full service RV Site or glamping tent nestled in the Black Hills of So…
Starting at $479
Rush Mountain Adventure Discount
Experience the RUSH of 5 thrilling attractions in one location. Ride the region's only Mountain Coaster, explore Rushmore Cave, …
SEE DEALS