Do Deadwood
Vacation Package
Starting at $399 for a family of four
Family of Four (2 Adults, 2 Kids 12 and Under)
Pricing based on lowest priced lodging
Valid Dates: 05/31/2021 - 09/30/2021
Not only is Deadwood a great place to kick back and put your boots up, it's a great place to entertain the entire family with our DO DEADWOOD package.
Ride the famous Deadwood Stagecoach, meet the gunslingers and watch the free historically accurate re-enactments & shoot-outs of Deadwood's past, learn about Deadwood's legendary history at our three museums, tour the authentic Broken Boot Gold Mine; and end the day at the Trail of Jack McCall, a play based on the actual trail that took place after Jack McCall murdered Wild Bill Hickok.
While you are here, visit the final resting place of Wild Bill Hickok and stop at the new Visitor Center. Package starts at $399 for a family of four and includes 2 nights lodging and admission to six activities. Consider adding the Lawman's Walking Tour, Tatanka: Story of the Bison, and take a one-hour bus tour of Deadwood.
Lodging Options
Cedar Wood Inn
Gold Country Inn
Martin Mason Hotel
Black Hills Inn and Suites
TraveLodge Inn and Suites
Hampton Inn at Tin Lizzie Gaming Resort
Holiday Inn Express Deadwood
Celebrity Hotel
Deadwood Comfort Inn and Suites
Deadwood Gulch Gaming Resort
Mineral Palace Hotel and Gaming
Super 8 Deadwood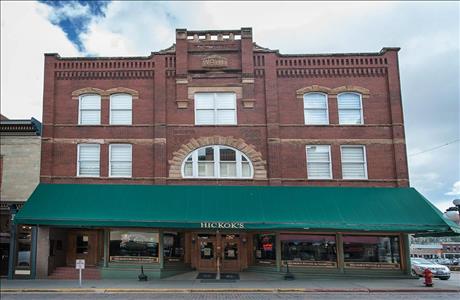 Hickok's Hotel and Suites
Whistlers Gulch Campground
Lodge at Deadwood
Days of 76 Campground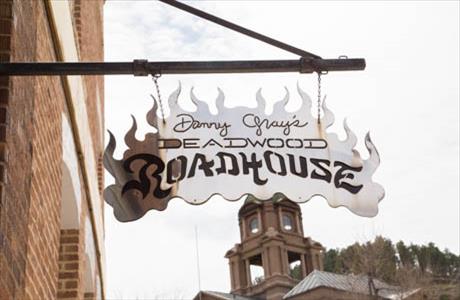 Deadwood Roadhouse
Iron Horse Inn
Deadwood Station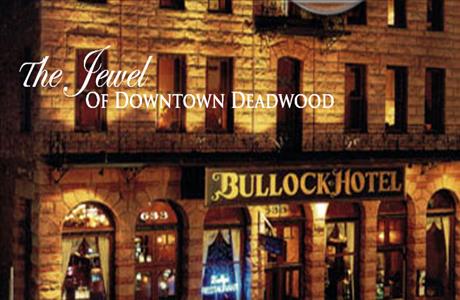 Bullock Hotel
First Deadwood Cottages
Deadwood Mountain Grand a Holiday Inn Resort
DoubleTree by Hilton at Cadillac Jacks
SpringHill Suites Deadwood
The Hotel by Gold Dust
Cole Cabins
Tru by Hilton at Cadillac Jack's
Branch House
---
Activity Options
Broken Boot Gold Mine
Trial of Jack McCall
Historic Adams House
Days of 76 Museum
Adams Museum
Deadwood History and Information Center
Lawman's Patrol - Guided Walking Tour
Deadwood Main Street Shootouts
Tatanka Story of the Bison
Deadwood Stagecoach
Lodging
Cedar Wood Inn
Gold Country Inn
Martin Mason Hotel
Black Hills Inn and Suites
TraveLodge Inn and Suites
Hampton Inn at Tin Lizzie Gaming Resort
Holiday Inn Express Deadwood
Celebrity Hotel
Deadwood Comfort Inn and Suites
Deadwood Gulch Gaming Resort
Mineral Palace Hotel and Gaming
Super 8 Deadwood
Hickok's Hotel and Suites
Whistlers Gulch Campground
Lodge at Deadwood
Days of 76 Campground
Deadwood Roadhouse
Iron Horse Inn
Deadwood Station
Bullock Hotel
First Deadwood Cottages
Deadwood Mountain Grand a Holiday Inn Resort
DoubleTree by Hilton at Cadillac Jacks
SpringHill Suites Deadwood
The Hotel by Gold Dust
Cole Cabins
Tru by Hilton at Cadillac Jack's
Branch House
Activities
Broken Boot Gold Mine
Trial of Jack McCall
Historic Adams House
Days of 76 Museum
Adams Museum
Deadwood History and Information Center
Lawman's Patrol - Guided Walking Tour
Deadwood Main Street Shootouts
Tatanka Story of the Bison
Deadwood Stagecoach