Deadwood Base Camp
Vacation Package
Starting at $269
Per Person
Pricing based on lowest-priced lodging
Valid Dates: 03/19/2018 - 12/31/2018
Our legendary history, activities and central location makes Historic Deadwood the perfect Base Camp, day and night. To experience 1876 Deadwood, we've included entrance to the Days of 76 Museum, a repository for the horse drawn wagons, stage coaches and memorabilia of the Wild Bill era; the Adams Museum showcasing the Black Hills Gold Rush; our western history at the High Plains Heritage Center in Spearfish and three national icons: Devils Tower National Monument, Mt Rushmore National Memorial and Crazy Horse Memorial.
The Deadwood Base Camp package starts at $269 per person/dbl and includes three nights lodging in Deadwood, admissions to eight attractions, Wild Bill's Gaming & Entertainment coupons and a free Trolley ride. During our summer season, add a night and extend your package with your choice of 5 additional activities: Adam's House, Alkali Ike Bus Tour of Deadwood, Beautiful Wonderland Cave, and see the re-enactment of the Trial of Jack McCall.
Valid now through 12/31/2018. Some restrictions apply.
Lodging Options
Cedar Wood Inn
Holiday Inn Express Deadwood
Deadwood Gulch Gaming Resort
Mineral Palace Hotel and Gaming
Hickoks Hotel and Casino
Deadwood Roadhouse
Iron Horse Inn
First Deadwood Cottages
The Loft
---
Activity Options
Days of 76 Museum
Adams Museum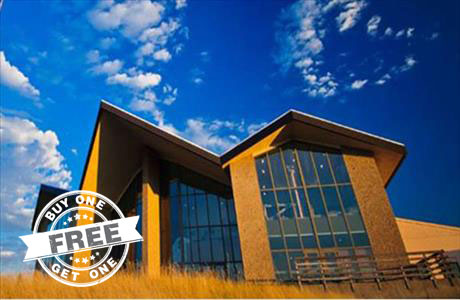 High Plains Western Heritage Center
Devils Tower
Mount Rushmore
Custer State Park
Crazy Horse Memorial
Historic Adams House
Alkali Ike Tours
Beautiful Wonderland Cave
Mt Rushmore Audio Tour
Broken Boot Gold Mine
Black Hills Mining Museum
Lodging
Cedar Wood Inn
Holiday Inn Express Deadwood
Deadwood Gulch Gaming Resort
Mineral Palace Hotel and Gaming
Hickoks Hotel and Casino
Deadwood Roadhouse
Iron Horse Inn
First Deadwood Cottages
The Loft
Activities
Days of 76 Museum
Adams Museum
High Plains Western Heritage Center
Devils Tower
Mount Rushmore
Custer State Park
Crazy Horse Memorial
Historic Adams House
Alkali Ike Tours
Beautiful Wonderland Cave
Mt Rushmore Audio Tour
Broken Boot Gold Mine
Black Hills Mining Museum